Anime Adaptation Announced!
Coming in 2021/22
Warning
This series contains intense violence, blood/gore, sexual content and/or strong language that is not appropriate for underage viewers. In keeping with Fandom's Terms of Use, all images that have exposed sensitive areas (such as nipples) have been censored from its original content. The Jigokuraku Wiki recommends viewers by mature audiences of the ages of 18 years and over.
Welcome to the Hell's Paradise: Jigokuraku Wiki

Manga • Characters • Administrators • Recent Changes • New Photos • New Pages • Help Wiki
Welcome to the Hell's Paradise: Jigokuraku Wiki, a Wiki dedicated to everything about the manga Hell's Paradise (Jigokuraku) that anyone can edit. Please help us by creating or editing any of our articles!
We currently have 14,054 edits to 334 articles and 1,152 images on this wiki.
Introduction

Gabimaru the Hollow
, a former ninja assassin of
Iwagakure
who is known and feared as a heartless husk of a man, spends his days on death row wondering when an executioner skilled enough to so much as harm him will arrive, as he thinks nothing of seeing an end to his meaningless existence... Or so he thought. After a skilled female executioner belonging to the
Yamada clan
by the name of
Yamada Asaemon Sagiri
confronts him, she makes the young ninja open his eyes to the fact that he wants live in order to reunite with his
wife
and offers him a proposition: if he ever wishes to see his beloved wife again, he is, under the auspices of the shogunate, to embark on a perilous voyage to a
mysterious mystic island
said to house the
Elixir of Life
. Should he be the one among many rival death-row fiends and scoundrels to find the elixir and return with it for the shogun, he will earn a full exoneration, and, more importantly, a chance at an ordinary married life with the light of his life — the woman who made the world seem not so ugly. Gabimaru gladly accepts the task but soon finds out that he has received more than what he bargained for. Is what awaiting him and the other contenders Hell? Paradise? Or Hell's Paradise?
Latest Releases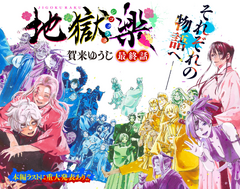 Chapter 127 of the Jigokuraku manga.
---
In British Hong Kong during the mid-1800s, Chōbei notices that the men he took down do not look residents and is told by Tōma that they are from England due to the recent war causing chaos in power. Chōbei becomes pleased to hear this since he believes that it is an opportunity for him to take over the city and declares to the Englishmen that he now rules the underworld from here on. After one of the men calls Chōbei out to be a baby in British, due to the man's stature after he was revived by Tōma in the past with some help from Gui Fa, Tōma translates for Chōbei on what he said and sees his brother transform to kill the man for this insult. Chōbei becomes angry with his clothes being torn to shreds after being forced to transform but is informed by Tōma that he has more clothes in stored. At the same time in a teahouse in Japan's Hitoyoshi Domain, Shion gives his opinion on Nurugai's new appearance being too much for her age but is told that she prefers her new look since the other girls around her dress the same. Nurugai is then hit on by two men, which she found flattering, but sees Shion ward them off with a threat.
---
...Read more
JapaneseJapanese | EnglishEnglish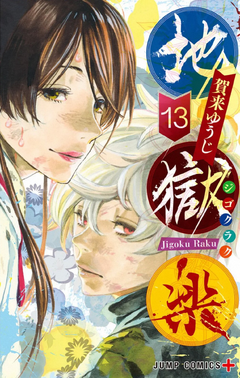 Volume 13 of the Jigokuraku manga.
---
Having successfully escaped the island, the ten survivors face Rien as their final obstacle before returning home. However, the Tensen proves to the humans that their efforts are all in vain against her power and is left to face with only three opponents: Gabimaru, Sagiri, and Shugen. After committing an action that enrages her to drop her guard, Rien swears vengeance against the humans but is soon set free of her grief after she learns from Gabimaru that they share one thing in common with each other. With the Tensen and her plans eliminated, the survivors sail back to the mainland with the Elixir of Life and forms a compromise on who should be the one to receive the pardon. Upon returning to Edo, Sagiri and Jikka present themselves to the shogun as being the only Asaemons to have survived, while Tamiya Gantetsusai presents himself as being the only criminal to have returned back alive from the island with the Elixir of Life and is pardoned of his crimes. Jikka reports that all the criminals had met their end on the mission and that the Iwagakure chief committed an act of treason against the shogun upon tasking his shinobi from the second team to complete an assignment that strayed away from the mission's main goal, resulting in his death in the process after being used to test the elixir's effects. Unknown to everyone except for Sagiri, Jikka, and Gantetsusai, the Asaemons had actually set the remaining criminals Gabimaru, Yuzuriha, Nurugai, along with Shion, free before their return to Edo and agreed to look the other way by fabricating a false report about their status. As a result, Gabimaru happily reunites with Yui and is finally able to start a new life with her in the future.
Affiliates
If you would like to become an affiliate of Jigokuraku Wiki, contact us.
Contribute to this Wiki!
To create a new article, simply enter the article title in the box below:
Trouble getting started?
If you are new to wikis, check Help:Getting Started
Don't be afraid to just jump in and start it! Others can edit and improve whatever you make.
Check out the

community portal

to see what the community is working on, to give feedback or just to say hi.
Help the wiki by editing article stubs and creating wanted pages.